CDISC Transformer
Development of integrated clinical trials data repository and
CDISC transformer module
Escalating interests of clinical trials and multi-national and multi-institutional clinical trials are increasing.
ClinicalTrials.gov trial registry contain and open information on more than 100,000 clinical studies, and even provides summary result data. It aims to improve the clinical resesarch enterprise.
However, clinical trial enterprise in domestic is difficult to be advanced due to heterogeneous data formats and controlled vocabularies
Based on the international standard Clinical Data Interchange Standards Consortium (CDISC), we develop clinical trial data transforming modules and model to integrate clinical trial information.
● STRUCURE OF CDISC TRANSFORMER (top)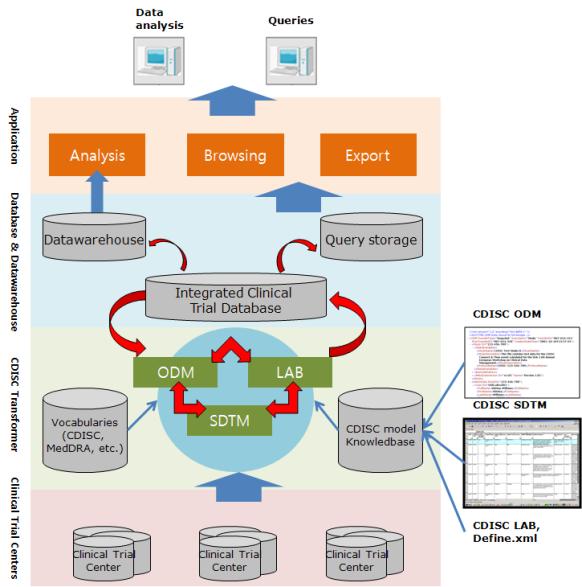 1 Part : Development of integrated clinical information registry and integrated analysis system
Analysis of standard model for clinical trial information
Design of databases and datawarehouse for managing and integrating clinical trial information
Development of databases and datawarehouse
Development of statistical analysis system and mining tool
2 Part : Development of CDISC transformer base on CDISC standard model for clincal trial data interoperability
Understand CDISC standard models
Research controlled vocabulary used in CDISC model
Design and development of the mapping rules for interacting among clinical trial data and standard model structure
Mapping clinical trial data into controlled vocabulary
Development of CDISC Transformer system based on mapping rule
Development of clinical trial data transmitting protocol based on standard formet
● RESEARCH GOAL AT EACH YEAR (top)
Year
Goal
Research Content
1st

Year

Understand and analysis of standard model for clinical trial information
Design of databases and datawarehouse for managing and integrating clinical trial information
Research controlled vocabularies used in CDISC model
Development of CDISC Transformer system based on mapping rule

Research of CDISC models (ODM, SDTM, ADaM, LAB and etc.)
Research the status of clinical trial enterprise and how CDISC models are utilized in international/domestic
Understand clinical trial process and general term used
Design of databases to represent and cover entire CDISC models and relative controlled terminologies
Desgin of a datawarehouse for analysis on clincl trial information

2nd

Year

Development of databases and datawarehouse for managing and integrating clinical trial information
Development of statistical analysis system and mining tool
Mapping clinical trial data with controlled vocabulary
Development of CDISC Transformer system based on mapping rule
Development of clinical trial data transmitting protocol based on standard formet

Development of databases and datawarehouse for managing and integrating clinical trial information
Development of statistical analysis system based on CDISC ADaM model (using ClinicalTrials.gov summary result data)
Mapping clinical trial data with controlled vocabularies (UMLS)
Development of CDISC Transformer system (compliant with CDISC SDTM and ODM models)
Development of clinical trial data transmitting protocol based on standard formet
Year
Result
Publication
1st

Year

CDISC Transformer: a metadata-based transformation tool for clinical trial and research data into CDISC standards. Yu Rang Park, Hye Hyeon Kim, Hwa Jeong Seo, Ju Han Kim* KSII Transactions on Internet and Information Systems 2011;5; 1830-184

2nd

Year

CDISC Transformer: meta-data driven semi-automatic transformation of CDISC ODM standard model to CDISC SDTM standard model
Understand clinical trial analysis data as converting ClinicalTrials.gov summary result data to CDISC ADaM standard model